Scrambled Eggs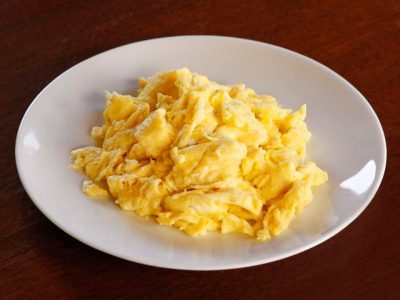 One of the easiest things to make for breakfast. There is considerable controversy on how to cook the best scrambled eggs. Should you add milk? Should you add water? I have done a lot of reading on this matter. I've visited multiple chefs' websites and sent numerous emails to try and get the best answer. So here is what i found.
When cooking eggs the first thing I will tell you is, turn the heat down. The best eggs takes patience. If the heat is to high, the eggs will not cook evenly. You end up with rubbery eggs. I have tried many combinations and here is what I like best.
I stopped adding anything to the eggs before I cook them. You need to beat the eggs and continue to beat them until you pour them into the pan. If you have a milk shake mixer or a vertical hand mixer, use that to beat your eggs. When you are beating the eggs, you will be aerating the eggs. This will make them lighter, more fluffy and I think, taste better.
Don't beat the eggs and then let them sit before you put them in the pan. Keep beating them right into the pan.
Don't let them sit too long in the pan before you stir them. Stir them slow. If you want to add spices or cheese, add them when the eggs are almost done. Adding spices too early will break down the eggs and make them watery. Adding cheese too early could overheat the cheese and overcook your eggs.
Use the right size pan for the number of eggs you are cooking. Don't use a large pan for 2 eggs or a small pan and load it up with 6 eggs. Generally, an 8 inch pan for 2 eggs and so on.
I like to cook with butter. I like the flavor it adds to the eggs. If you are worried about cholesterol, use olive oil. I'm not a fan of margarine. I avoid it whenever possible. you can use non stick spray or spray butter.
I have added cayenne pepper, dill, garlic salt, oregano, parsley, onion powder, thyme and host of other spices. Experiment with combinations. Find what tastes best for you and your family. If anyone wants some of my spice combination, leave a comment. Enjoy.
---
---