Easy Mexican Chicken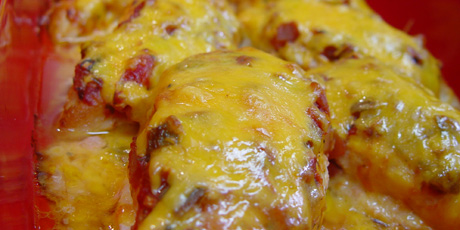 This meal will get you in the mood for a little Mexican Hat Dancing. The salsa and cumin cooking will fill the air and transport you to the hustle and bustle of a mexican restaurant. This delicious easy recipe that will have you shouting 'Ole'.  I was looking for an easy way to prepare chicken breasts with a Mexican kick. The result was so good I had to share it. This recipe will make 4 servings.
Thaw your chicken first. If you are thawing in the microwave, don't let it turn white. When the chicken is white, it is cooking and it will be tough after you bake it. Combine 1/2 teaspoon salt, 1/2 teaspoon pepper, 1/2 teaspoon ground cumin an 1 clove garlic minced. Rub the chicken with this combination to taste. Place in a hot skillet and cook until no longer pink. 7 to 15 minutes. Transfer to 9×13 baking dish. Top with your favorite salsa. When salsa is cooked it has a tendency to get a little spicer. Keep this in mind for the spicy sensitive members of your family. Bake in preheated oven at 375 for about 15-20 minutes. Check the chicken with a thermometer around the 15 minute mark. Your goal is to catch it at around 130 degrees internal temperature. At this point, top with a generous amount of shredded cheese. Cook until the cheese is starting to brown. Take it out and let it sit in the dish while you finish preparing your sides. It will continue to cook.
The ingredient list:
| | |
| --- | --- |
| 4 skinless, boneless chicken breasts | 1 clove Garlic minced |
| 1/2 tsp Salt | 1 cup of your favorite salsa |
| 1/2 tsp Pepper | 1 cup Shredded Cheddar Cheese |
| 1/2 tsp Ground Cumin | Cooking Spray |
|   |   |
---
---