Baked Salmon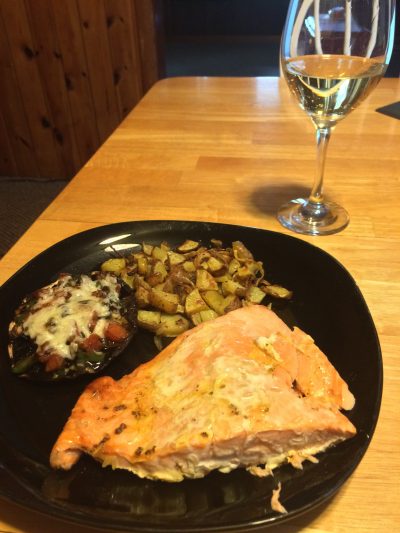 There are times when you do something and it meets every expectation you had in your mind. You start by thinking about what to have for dinner. Today I thought, I will have salmon. Well that's where it started.
I have a favorite way to make salmon that is so easy and it tastes amazing. I decided to add some roasted potatoes with onions and I know I had some portobello mushrooms. So there it is. The simple dinner that made me think, 'this is why we cook'. When everything comes together and your end result meets or exceeds your expectations. I sat and enjoyed every morsel.
Salmon
This is too easy. Take your salmon and spread some butter all over it. Don't use margarine because it gets too hot and could change the taste of your salmon. Use real butter. Then sprinkle with Lemon Pepper. Now, I'm not a fan of lemon with fish. I'm just not a fan of lemon. But you sprinkle some lemon pepper on salmon or trout and the flavor comes alive. Try it an let me know what you think.
Potatoes with Onion
Again too easy. Scrub and chop your potatoes into bite size pieces. Slice onion and separate without dicing. Put both into a bowl. Sprinkle with your favorite olive oil and mix thoroughly.
Portobello Mushroom
The hardest part of the meal but still easy. Remove the stem. Grill for about 3 minutes on each side. I use a cast iron fry pan for this. Dice some tomatoes and green pepper (this is what I used, feel free to substitute your favorite). When the mushroom is done, remove the pan from the heat and toss the tomatoes and green peppers in. The pan will still be hot. Heat for about 3 minutes turning often. When the stuffing is done, pour onto the mushroom.
Putting It All Together
I'm sure you noticed I didn't give you any amounts for the ingredients. I did this on purpose so you can experiment with what you like. There is no wrong amount. Remember, taste is subjective. Just because I like it, doesn't mean you will, so do what you think you or your family will like.
Preheat the oven to 450 degrees. When you get the potatoes ready, put them in right away. Remember, the bigger you chop the potatoes, the longer they will take to cook. I chopped them to about 1 to 1 1/2 inch cubes.
Prepare the salmon and wrap it in foil. Not too tight. Leave some air at the top of the salmon steak.
Prepare the Mushroom with the stuffing. Top it with some Parmesan or Cheddar.
When the potatoes are starting to brown around the edges, put the salmon in the oven with the potatoes. Wait about 7 minutes and put the mushroom in. I like my salmon medium. So everything will be done in about 6-8  minutes after you put the mushroom in.
Tonight the stars were all aligned and my dinner turned out perfect.
Enjoy and let me know how yours turns out.
---
---