Omlette Roll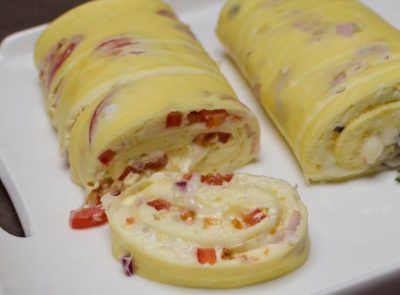 Ingredients
8

Eggs

1

cup Milk

1/3

cup Flour

1

medium Tomato; finely chopped

4

slices Ham; chopped

1/4

cup Onion; finely chopped

1 1/2

cup Mozzarella Cheese
Instructions
Beat eggs, milk and flour in large bowl.
Pour egg mixture onto a pan (12x16) lined with parchment paper. Sprinkle eggs with prepared vegetables, ham and 1/2 cup of cheese.
Bake at 350F for about 14 minutes, or until edges are almost set.
Top omelette with remaining cheese; bake 2 min or until the cheese is melted.
Roll up the omelette immediately, starting at one short end and peeling off paper as omelette is rolled. Place on platter; cut into slices. Serve immediately.
---
---