Beef and Tomato Macaroni Soup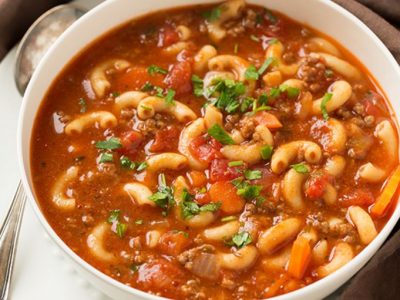 When was the last time you woke up, looked out your window and it's gloomy, rainy and you just want to pull the covers over your head and stay in bed. Well here is a dish that is a totally feel good kind of meal. It will have you cuddled up with your blanket, a movie or a book and a bowl of this soup.
I wouldn't exactly call this a soup. It has the consistency of a goulash. Nice and thick, stick to your ribs kind of meal. It's very easy. Throw on some music, pour a glass of wine and get busy. 
It's a good recipe to experiment with. Add spices, different vegetables, play and experiment. Cook the carrots a little ahead of time or slice them thin. That of course depends how you like your carrots.  
I added cheddar instead of parmesan. It added a very rich flavor. You can freeze individual servings for a quick meal. Don't thaw or reheat in the microwave. The pasta will get mushy. Thaw on the counter and heat in a sauce pan over low/medium heat. 
Enjoy.
---
---