Omelette Roll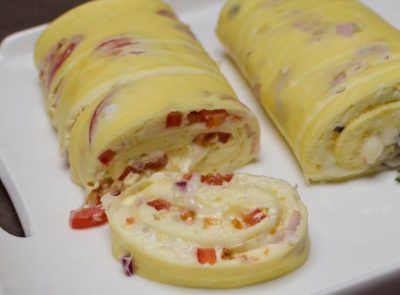 I'm always looking for new and interesting ways to prepare breakfast. I love cooking Sunday breakfast and not just for myself. I came across this recipe and I liked the idea. Not only is the dish delicious, it looks great.
I found that if you beat the eggs and the flour first, then add in the milk makes the omelette a little smoother in texture. The recipe I posted is the original but I make some modifications to my tastes. I like mozzarella but I prefer cheddar with eggs. Change up the vegetables with what you have around. Be sure you don't use too much stuffing. This will make the omelette harder to roll and it could fall apart. I cut down the amount of ham and added a little green pepper. It added color and flavor.
When you go to roll the omelette, be careful. It's hot. Use gloves to roll it.
Serve immediately when the cheese is nice and gooey. Add a side of fruit (avocado,  strawberries, melon) and you have a dish that looks and tastes great.
---
---