Breakfast Quiche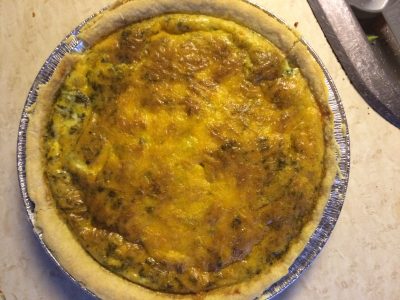 Here's an easy quiche recipe that will have them coming back for seconds. I actually saw this on a movie and decided to make some modifications to my own tastes. Some of your best dishes will come when you experiment. When this quiche is cooking, it fills the air with the smell of thyme cooking. Add a pot of coffee brewing and I guarantee that no one will remain in bed.
The link to the recipe is below. Some thing to look out for. Make sure you bake the prepared crust for the 8 minutes, otherwise the quiche will be cooked but the crust will not be. Cover the edges with foil once you put it all together to bake.
If you have more time and would like a little richer taste, just make it with egg yokes. Instead of 4 eggs, use 6 egg yokes. Turn the temperature down to 300 and cook it longer and slower. You'll be amazed at the difference in the taste. Be sure to beat the eggs just before you add them to the crust. Beat them thoroughly so they aerate.
If you would like to add an Italian flair to your Quiche, add 1/2 tsp of Oregano. Don't add too much. The Oregano will overpower the delicate egg flavor.
---
---